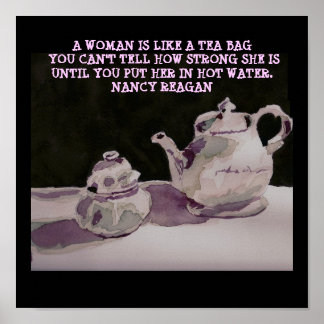 I believe that people would be alive today if there were a death penalty.
A woman is like a tea bag, you can not tell how strong she is until you put her in hot water.
The movies were custard compared to politics.
It's appropriate that this symbol of American strength and resilience and optimism has come to rest at the library that bears Ronald Reagan's name. After all, it was President Reagan who always reminded us that when we set our eyes on the horizon, every day is morning in America. ... The Reagan Library is a place the sun will never set on the principles that Ronnie believed in so deeply.
I see the first lady as another means to keep a president from becoming isolated.
My life really began when I married my husband.
I think a woman gets more if she acts feminine.
Pornography is pornography, what is there to see? Movies are attempting to destroy something that's supposed to be the most beautiful thing a man and a woman can have by making it cheap and common. It's what you don't see that's attractive.